Scoping future opportunities – competitive response workshops
In the wake of the worldwide COVID-19 virus outbreak, events are unfolding with such speed that industries are facing uncertain futures overnight. The healthcare industry in particular will face a future different from everything we previously imagined.
Competitive response workshops can help you develop a range of responses to different future challenges as they can provide you with insightful external perspectives of your environment, markets and competitors. Thus, helping your organisation to make better decisions for the future. Our workshops allow you to 'stress-test' strategies before implementation, and to predict how key players in the environment are likely to respond.
What does a competitive response workshop look like?
The workshops are hosted in a prespecified future horizon that allows participants to gain insights by playing key stakeholders in a prespecified situation. The success of any given strategy largely depends on the reactions of third parties; and as we don't have direct knowledge of their reactions, role-playing allows us to develop potential scenarios and possible responses for the future.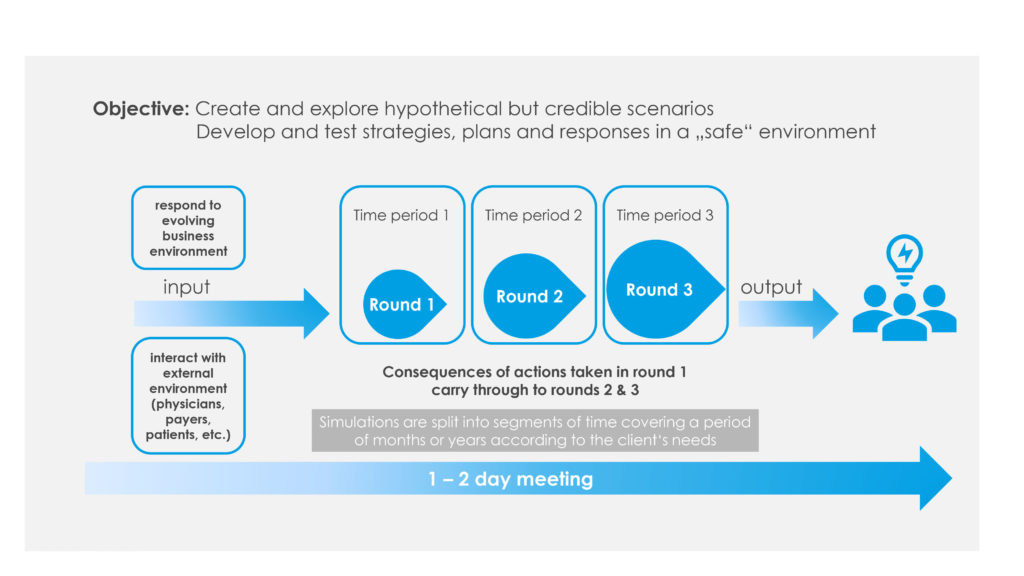 A competitive response workshop will help you find answers to the following questions:
Who are the key external players and what is their influence?
Who are our competitors?
What are their strengths and weaknesses?
What strategies are they pursuing (and how successfully)?
How are they likely to behave in the future?
What changes (if any) should we make to our strategy based on competitors' expected moves?
Additionally, your organisation could benefit from such a workshop by
gaining a greater external focus and competitor insights
sharing expertise of different disciplines and uncovering intelligence gaps
stimulating active company participation and buy-in
A competitive response workshop is an ideal tool to support any prelaunch activity at a multi-disciplinary level. Marketing, medical and market access teams are also able to explore life cycle opportunities and counter new competitive challenges. The methodology can also be adapted to suit specific fields, such as medical or market access around new clinical data or market access challenges. In addition, including external experts into the workshop for feedback/authenticity will add further objectivity to the process.
If you would like to host your competitive response workshop, please contact us at stanton@infill.com