My interest in cancer began as a young scientist. I was fascinated by the genetic and cellular changes that give rise to cancers, and how we treat them based on these changes. I was aware that the goal in cancer research is saving lives, but I hadn't started relating the facts and figures I studied to real patients, to real people.
As I grew older, I began to be more personally affected by cancer. A friend lost their 3-year-old daughter to a rare brain cancer. And I watched the devastating impact this had on their lives, and on the lives of everyone in the community.
I shared in the journey as another friend went through the diagnosis, treatment, and eventual death of her father from cancer. It affected every day for every member of her family and beyond – days of sadness, of hope, of poignant moments, of loss.
It struck me that so many of us are affected by cancer, and wanted to help. As a medical writer, I can promote cancer research and findings from the latest clinical trials within the oncology community. But I also want people to know that you don't have to be a scientist to help.
What can I do?
In the face of something as immense as cancer, it's hard to know how to be proactive. But there are simple, attainable things we can all do to make a difference.
Take good care of yourself, and spread the message to family and friends
Around one third of deaths from cancer are due to lifestyle factors such as low fruit and vegetable intake, lack of physical activity, high body mass index, and tobacco and alcohol use. [1]
This means that one third of cancer deaths (around 3.3 million deaths per year) are preventable by changing our habits.[2] To me, this is the most important message in the fight against cancer: Eat more fruit and veg, make time for exercise, cut out (or at least cut down on) alcohol and tobacco. Small changes, with fantastic results.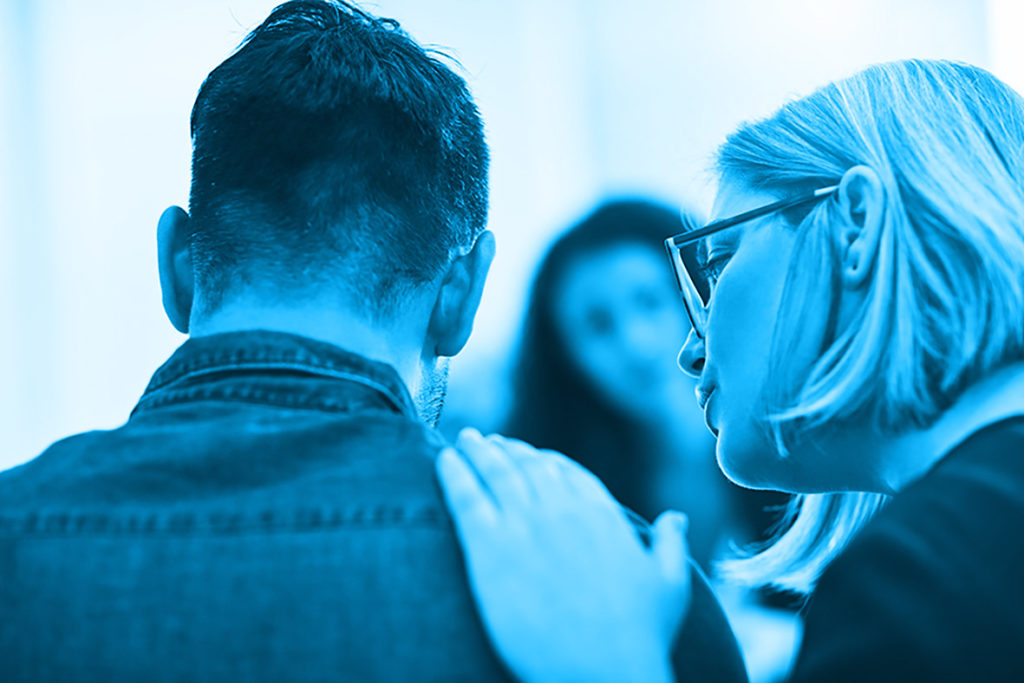 A bit of contact makes all the difference
Be present with individuals with cancer
Living with cancer can be a lonely, isolating experience. Around a quarter of individuals diagnosed with cancer lack support from family or friends during their treatment and recovery.[3] If someone you know has cancer, pay them a visit – pop in for a chat, sit with them a while. A bit of contact can make all the difference.
Is there hope?
At an oncology congress last year, I heard many positive statistics. The survival gains should have given me hope, but I felt defeated. The problem seemed so vast, and the answers inadequate.
Just then, I met a beaming clinician who told me of his cancer diagnosis 15 years ago; and how he was given a year to live. But now here he was, large as life, loving his career, enjoying his grandkids, and continuing his research and patient care.
Suddenly the whole congress took on new meaning. Hope is all around us, progress is possible, and we can all play a valuable part.
References
World Health Organization, 2020. https://www.who.int/cancer/resources/keyfacts/en/ [Accessed 28th January 2020]
World Health Organization, 2020 https://www.who.int/cancer/PRGlobocanFinal.pdf [Accessed 28th January 2020]
Macmillan, 2013. https://www.macmillan.org.uk/documents/aboutus/newsroom/isolated_cancer_patients_media_report.pdf [Accessed 28th January 2020]