News from 'our' village – infill corporate social responsibility
As part of our mission to work in healthcare for the benefit of mankind we have chosen to share our profit with those less fortunate. Since last year, we have been contributing to a development project organised by Kindernothilfe that supports families in the mountain region of Carrefour, Haiti.
Haiti is the poorest country in the western hemisphere that has been battered by political crisis and natural disasters. Earthquakes and hurricanes have killed many of its inhabitants, devastated the land and increased poverty and displacement. Hunger and cholera have worsened the situation and the new government is struggling to fulfil inhabitants' basic needs. Human Rights Watch estimates that one in two Haitians age 15 and older is illiterate and the UN independent expert on the country postulated action to eradicate illiteracy as one of the top human rights priorities in Haiti.[1]
The situation is particularly bad in remote, rural areas like the mountain area of Carrefour, southwest of Port-au-Prince. This is where aid workers of the German charity Kindernothilfe and its local cooperation partner RECMOC have been helping local families to get back on their feet. Their efforts focus on education and opening up economic opportunities by teaching the inhabitants to grow their own produce as well as manual crafts.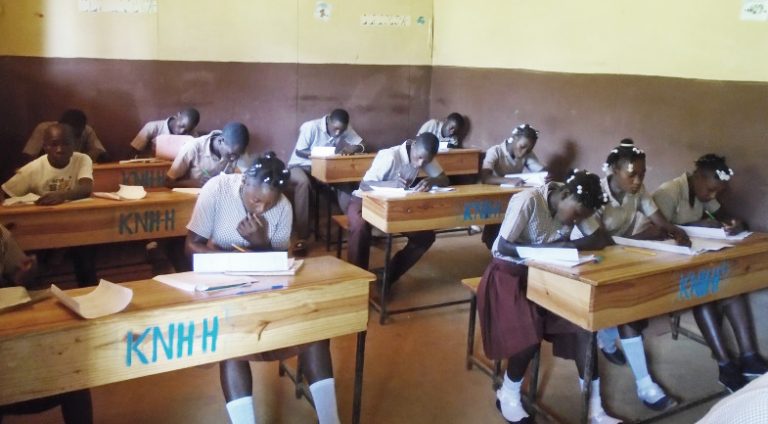 Thanks to their work
Six schools in the villages Coupeau, Bois Matin, Dicou, Daveau, Volant and Bouvier provide lessons on a regular basis.
729 children in the area (124 boys and girls in Dicou) now go to school there.
All the schools now have a library.
Teachers and parents receive regular training on children's rights and child support.
Pupils learn how to farm organically.
240 families have received goats for breeding.
There is a literacy programme for parents.
Health is of the focus of all activities for children and youngsters.
There were additional challenges, too. At the end of 2016, hurricane Matthew destroyed part of the school buildings and damaged the school gardens. The school in Dicou lost its roof and only a few manioc (cassava) and banana plants survived. While maintaining the school kitchen has become more expensive, thanks to the efforts of the aid workers, it is still up and running. Unfortunately, the hurricane also affected the goat-breeding programme, as many goats died in the storm. New animals need to be bought and distributed to the families.
Best wishes and seasons greetings to the Carrefour communities and a big thank you to the charity workers for their resilience and continued efforts!
We would also like to take the opportunity to thank those clients, friends and families who added their donations to our Dicou fund. We have renewed our commitment to the project and will continue to support Dicou in the next year. If you would like to donate, please contact me at schmidt@infill.com
[1] https://www.hrw.org/world-report/2017/country-chapters/haiti as accessed on 6 Dec 2017